ESTRUS MAILORDER
Click on links below to go to each section of our current inventory


ONLINE ORDERS WITH PAYMENT VIA PAYPAL AVAILABLE FOR DOMESTIC U.S. ORDERS ONLY.
NON-USA / FOREIGN CUSTOMERS CONTACT US FOR ORDERING INFORMATION.
For information regarding International orders please click

All Domestic orders sent post paid via Media Mail, First Class shipping available for $6.00 per order.
Payment via Pay Pal ONLY. No phone/fax orders accepted. WA. State residents will pay 8.7% sales tax.
If it ain't listed we don't got it!
Thanks.

If you have any questions please contact us at: ESTRUS MAILORDER


Click on the RED "ORDER..." text to add to cart.

Click on the Band or Title for more info.

If you would like to add First Class Shipping to your order for an additional $6.00.
Click

Click VIEW CART to view your current order. • CHECK OUT to complete your order.



LP/CD 10"/EP • 7 INCHES • T SHIRTS • MONO MART • SWAG SHACK


---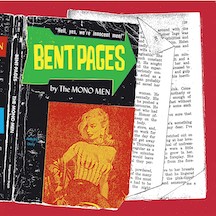 MONO MEN "Bent Pages!" LP DSL51 (French LP Edition)
$26.98
•
Limited edition remastered vinyl repress on RED Swirl vinyl - French import
Limited Edition of 500
MONO MEN "Shut Up! Callate!" LP GHR233 (Spanish LP)
$24.98
•
12 Track Limited Edition LP - Spanish import
Limited to 400 copies.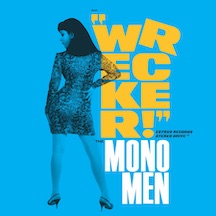 MONO MEN "Wrecker!" LP DSL5 (French LP Edition)
$24.98
•
Limited edition remastered vinyl repress, packed in a new "blue" version of the cover art
and pressed on BLUE Vinyl - French import - Limited Edition of 400
DT'S AND DT'S RELATED SWAG AVAILABLE IN THE SWAG SHACK


THE DIPLOMATS OF SOLID SOUND: funk fortified B3 basted action soul blowout
"Let's Cool One!" CD-ONLY ES2101 *
A sanctifyingly satisfying 12-course sitting of funk fortified hammond heavy all-instro Action Soul Sound groove stew that takes inspiration from Booker T. & The MG's, The Meters, James Brown and the B3-driven, backyard barbecue jams of Jimmy Smith, Lou Donaldson, Jimmy McGriff, Lonnie Smith and Brother Jack McDuff. Smokier than a Tiki torch, shinier than the chrome on a rib-joint's Formica tables, tangier than Hecky Powell's secret sauce and funkier than a two-dollar hooker's come-hither...Sleeve design by ART CHANTRY MORE INFO

"Destination...Get Down!" CD-ONLY ES2110 *
Steeped in the sizzling, funky gumbo of Booker T & The MG's, The Meters, James Brown and the B-3-driven, backyard barbecue jams of Jimmy Smith, Lou Donaldson, Jimmy McGriff, Lonnie Smith and Jack McDuff, THE DIPLOMATS OF SOLID SOUND surge forward in their passionate crusade to steam-clean the planet's dancefloors with their third full-length platter percolation, DESTINATION...GET DOWN! MORE INFO


THE DT'S: high voltage head on hard soul get down
"Hard Fixed" ES2102 CD

Ten sweat fueled tracks of Hard Soul get down fueled by equal parts hot n' sweaty soul swagger and loud hard rock stagger featuring ex members of Mono Men, Watts and Madame X… a raging head on hard soul fury! Recorded by TIM KERR at Seattle's legendary Egg Studios. Sleeve design by JIM BLANCHARD. MORE INFO

"Nice 'N' Ruff" LP/CD GH1136

hard soul shot number two...a non-stop, sweat-soaked, 35 - minute rock and soul party in a box! cover art by art chantry. LP pressed on 180 gram wax.

"Filthy Habits" LP/CD GH1137 LP

the third full length testimonial of rock n' soul snakebite! ...raw power meets soul power! cover art by dkz. LP pressed on 180 gram wax.

MORE DT'S AND DT'S RELATED SWAG AVAILABLE IN THE SWAG SHACK


THE MAKERS: the kings of j.d. trash rawk rumble!
"Tear Your World Apart" CD EP ES71001

two electro-charged tracks from THE MAKERS full-length "HUNGER" PLUS four girdle-curdlin' tracks unavailable elsewhere...cover art by Jaime Hernandez! MORE INFO

"Hunger" CD ES1232

A 16 song writhin' punk rock prescription that's beyond description, a revved up rock n' roll revolution, a non-stop slop n' soul solution from the undisputed JD rock heavyweight champions of the world. ..THE MAKERS!!! Recorded by Tim Kerr MORE INFO

"Psychopathia Sexualis" CD ES1248

just when you thought you knew The Makers...13 shining jewels reminiscent of the Velvet Underground, Richard Hell, Stax and The Kinks, yet undeniable Makers! Here's your chance to stand up and begin again. Recorded by Jack Endino and Mike Maker. MORE INFO


MAN OR ASTRO-MAN?: all-instro raygun rock invasion
"Is It..." CD ES129 *
all-instro science gone mad mixture of surf trash, spy themes, and sleazy cocktail lounge mating call music all bashed together and spit out as a lethal dose of over the top extra terrestrial RayGun Rock©. LP has two bonus cuts!
MORE INFO
"Destroy All Astro-Men!" CD ES1215
this ragin' spacepuck collects 23 cuts (21 on CD) from the band's veritable black hole of 7" singles as well as several unreleased tracks! Crazed intergalactic all-instro insanity!
MORE INFO
"Project Infinity" CD ES1221 *
Go beyond the realms of your own mind and enter Project Infinity where time and space exist only between the recorded grooves...a 15 song all-instro saucer attack! LP features a bonus cut.
MORE INFO
"Beyond The Black Hole" CD-ONLY ES1278 *
A 12-song cargo of atomic charged interstellar insanity that gathers together prime single and compilation tracks from the first phase of the ASTRO-INVASION circa 1993-1996. REMIXED! REMASTERED! REGURGITATED! Featuring retina melting NEW artwork transmitted straight from the frontal lobe of MR. ART CHANTRY.
MORE INFO



THE MOONEY SUZUKI:
rock'n'soul redemption
"People Get Ready" LP/CD ES1273
A hand-clappin', foot-stompin, r'n'b infused rock 'n' roll testimonial that draws inspiration from equal parts revved up bad boy british blues and shack shakin' Stax/Volt power soul! Twelve tracks of unrelenting rock 'n soul redemption recorded by the noisemaster himself Tim Kerr at Sweatbox Studios in Austin Texas.
MORE INFO



MONO MEN:
booze fueled, guitar charged rock n roll
"Stop Draggin' Me Down" ES121 *
debut slab from the kings of drunk/punk. Loud guitars and tracheotomy vocals. Full color artwork by Chantry & McDougall. MORE INFO

"Wrecker!" CD ES123

CD Features BOTH the regular and very limited edition nude versions of the Art Chantry penned cover.
14 drunken, guitar charged, nitro-burnin' mantras about chicks, cars and booze! Total full-throttle devastation from start to finish...this ain't no wimpin', Baby! MORE INFO

"Wrecker!" CD SCD47 (South American CD Edition) $14.98 •

20th anniversary deluxe trifold digipak cd edition. Packed in a new "blue" version of the rare alternate cover by Art Chantry.

"Shut Up!" 10" CD EP ES101

A ragin' collection of eight loud n' raw all instro blow-outs...a potent cocktail of pounding drums and gear-meshing guitars with no vocals to get between you and the aural excitement! 10" version features a racy "adults-only" jacket. MORE INFO

"Sin & Tonic" CD ES1218

Twelve booze fueled doses of heavy handed "no-brow" rock, delivered loud and lewd...no cuttin' edge crap here, just more of that patented no-B.S, guitar charged Mono Men attack! LP version packed in an alternate deluxe jacket. MORE INFO

"Live At Tom's Strip n'Bowl" CD EP ES108

10-song turbojet recorded live, loud and brazen at the one and only Savidge Lanes Bowling Alley & Lounge! Vinyl version features a deluxe die-cut "peep-show" cover designed by Mr. Art Chantry! MORE INFO

"Have A Nice Day, Motherfucker" LP/CD ES1234

12 lean n' mean rough hewn ravers...the meanest sounding slab of MONOlithic shit yet! Fast, loud and aggressive. A Tim Kerr production. MORE INFO

MORE MONO MEN AND MONO RELATED SWAG AVAILABLE IN THE MONO MART


THE MUMMIES: wrapped wonders of budget rawk!
"Play Their Own Records" VINYL LP ES94015 *
Limited Edition Repress - Black Wax
Volstead tried to kill the still. Squeaky tried to kill the Ford (or was it GM?). And Red Book tried to kill your records. The Mummies proudly join the ranks of these other immutable, indestructible forces: Alcoholism! Imperialism! Consumerism! After long years in remission, "The Mummies: Play Their Own Records" is back in circulation--like the gonorrhea you almost forgot about. MORE INFO

"Death By Unga Bunga!!" CD-ONLY ES2100 *
22 tracks culled from their now ridiculously overpriced, collector's item 45's, including a very special, never before released, hide-the-salami hidden bonus track... THE MUMMIES say "Fuck vinyl, 'cause this CD shit is soundee so good." So what are you waiting for, jackass? It just don't get any easier than this. MORE INFO


SATAN'S PILGRIMS: three guitar instro garage surf stomp
"Creature Feature" LP (Reissue) JPR047

Limited edition reissue. Edition of 500. Cover by Art Chantry.


TEENGENERATE: raw punk fury from japan
"Smash Hits!" LP/CD ES1222

15 doses of revved-up and raw punk fury from Japan's undisputed garage/punk overlords. The best of the best culled from their 7" singles and e.ps. MORE INFO


THE VOLCANOS: land locked surf genius
"Surf Quake!" LP-ONLY ES1230

Michigan's undisputed sandblastin' surf-instro kingpins present twelve titanic tracks of fuel-injected beach-o-matic all-instro mayhem with enough reverb charged energy to spark a ground zero go-go-rama from the get-go! MORE INFO



---
Warehouse Finds
very limited stock. get'em while we got'em.
THE VON ZIPPERS: raw uberpunk attack!!
"Bad Generation" CD ES1247

12-song blitzkrieg of two-minute battery acid blasts that'll burn the hairs right offa yer ass! Think The Pack on smack, Mummies on Meth or The Vibrators on valvoline... MORE INFO

"Blitzhacker" CD ES1270

the Barons of Beer Barrel Botulism return to even the score and unleash their cruelest, most inhumane weapon of ass-numbing destruction yet. This unruly little dog's breakfast of riled 'n' relentless rock 'em sock 'em is culled from all the VON ZIPPERS single /comp output to date. MORE INFO

"THE CRIME IS NOW!" CD ES1291

this deafening bunch of middle-aged no-counts re-emerge from their dark 'n' dank Budget Ape basement, and deliver their third Estrus full-length tirade of relentless, plexi-powered din..Recorded at BUDGET APE STUDIOS. Sleeve design by PAT MORIARITY. MORE INFO


---