THE MUMMIES: "Play Their Own Records" ES94015 LP-ONLY • OUT OF PRINT
Limited Edition Reissue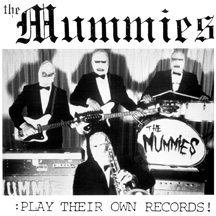 Volstead tried to kill the still. Squeaky tried to kill the Ford (or was it GM?). And Red Book tried to kill your records. The Mummies proudly join the ranks of these other immutable, indestructible forces: Alcoholism! Imperialism! Consumerism! After long years in remission, "The Mummies: Play Their Own Records" is back in circulation--like the gonorrhea you almost forgot about.
By the turn of 1990, The Mummies were fed up with the records of their time. Not content to take things lying down, these cut-rate visionaries put out a bunch of their own. And so pleased were they with these 45s, that they spent many an hour in rapt amusement, gathered 'round the great big Gramaphone in the lobby of the old Pre-B.S. headquarters listening to them over and over again. When after ruining several sets of their priceless collector's item 45s, they discovered you were supposed to change the steel needle after every single play of a record, they hit upon the idea of recording a mix tape so they could listen to their back catalog on the in-dash 8-track player of their '63 Bonneville ambulance whilst driving around the Bay Area hitting thrift stores and taquerias (remember, gas was a buck a gallon back then). Well, so satisfied were the Kings of Budget Rock™ with themselves, they successfully convinced the A&R men over at Estrus records in 1992 to release it as the standard long play album, "The Mummies: Play Their Own Records," which quickly sold out sometime in 2005.
Relive those lazy hazy crazy days of the twilight years of the last century, or experience them for the very first time through the technological deviltry of reproducing sound by physically (yes, physically!) dragging a needle down a rut cut into a piece of plastic! Amazing! Marvel at the spiritual bond you will share with The Mummies themselves, as you listen to the strains of their first 4 singles (including 5 tracks you won't find on CD) together! Yes, you too can play The Mummies own records... with them!